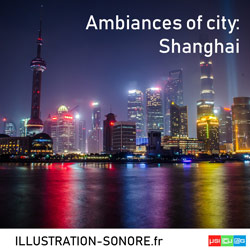 Musicec Sound Effect Library
Ambiances of city: Shanghai
Detail: Crowd sound ambiances in Shanghai with traditional music band in the distance. Soundscapes at the edge of the water, passers-by, lapping, fog horn, motor boats. Ambitions of indoor and outdoor restaurant. Sound ambiances of kindergarten, quiet summer night. Sounds of moped and airplane passing in the distance. Soundscapes of distant mob, factory alarm. Open sound atmospheres, with birds and distant conversations.
Content
26 Files
Total length
2 h 04 mn
Weight
4.11 Go
Price
80.00 €
Good deal: Buy this volume in a Pack and save up to 60% on your purchase.
Info : All these sound effects and soundscapes are treated and mastered with care. All files are long and varied to make excellent loops for movies or games.