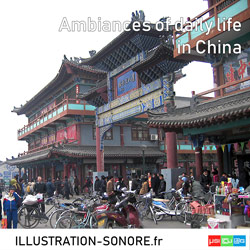 Musicec Sound Effect Library
Ambiances of daily life in China
Detail: Sounds of construction outdoor and inside sites, drill. Noises of assembly and disassembly of fair expo. Football training environments. Ambiances of hotel rooms. Repair shop environments. Market ambiances in a country village with cars and vehicles. Ambiances of outdoor swimming pool. Interior Sounds in train. Varied and typical sounds of urban life.
Content
24 Files
Total length
1 h 58 mn
Weight
3.94 Go
Price
80.00 €
Good deal: Buy this volume in a Pack and save up to 60% on your purchase.
Info : All these sound effects and soundscapes are treated and mastered with care. All files are long and varied to make excellent loops for movies or games.