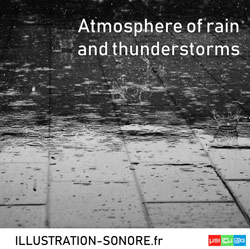 Musicec Sound Effect Library
Atmosphere of rain and thunderstorms
Detail: Atmospheres of storms nearby and faraway. Sounds of raindrops falling on metal or poles. Sounds of intense or light rain. Rain sounds with wind, leaves. Sounds of strong wind, with roars, muffled rumblings, hisses. Rain sounds in the distance with drops of water nearby.
Content
79 Files
Total length
3 h 18 mn
Weight
6.45 Go
Price
100.00 €
Good deal: Buy this volume in a Pack and save up to 60% on your purchase.
Info : All these sound effects and soundscapes are treated and mastered with care. All files are long and varied to make excellent loops for movies or games.