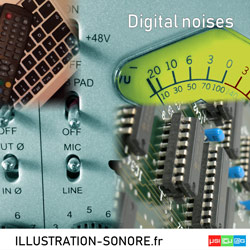 Musicec Sound Effect Library
Digital noises
Detail: Sound environments of digital noise, ADSL, connection, interface display, beep alert, satellite noise, background cable noise, voltage, buzz, information calculations, clicks, crunches, buzz. Coding, decoding, transcoding, startup, operation. Buzz sounds, data flow, fax, printing, communication, sending. Fiber optic noises, information transfer. Scanner sounds. Frequency modulation, shortwave, energy explosion, amplitude modulation telemetry sounds. Cell phone noises, message arrival, data exchange, interference. Data transfer by USB cable, Wifi. Magnetic radiation noise, satellites, network noise, optical fiber, data flow, Doppler effect, detector, drones, network. Real sound recordings made with microphones and precision sensors.
Content
411 Files
Total length
2 h 24 mn
Weight
5.27 Go
Price
150.00 €
Good deal: Buy this volume in a Pack and save up to 60% on your purchase.
Info : All these sound effects and soundscapes are treated and mastered with care. All files are long and varied to make excellent loops for movies or games.