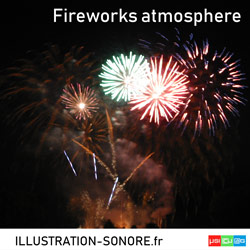 Musicec Sound Effect Library
FIREWORKS ATMOSPHERES
Detail: Sounds of fireworks and cracklings both in ambiances and isolated sounds, intense or lighter. They can be used to simulate gunfire and other battlefields. Sounds of fireworks and firecrackers from near, far, with hissing, simple, chained or with echo.
Key Words : ambient crackling, battlefield, cannon fire, chained firecracker, close-up firecracker, distant firecracker, firecracker with l 'echo, fireworks, intense crackling, isolated sound crackling, light crackling, single firecracker, whistling firecracker,
Content
101 Files
Total length
3 h 37 mn
Weight
7.25 Go
Price
150.00 €
Good deal: Buy this volume in a Pack and save up to 60% on your purchase.
Info : All these sound effects and soundscapes are treated and mastered with care. All files are long and varied to make excellent loops for movies or games.