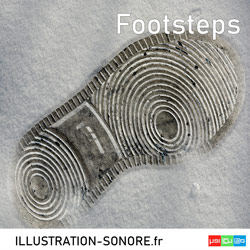 Musicec Sound Effect Library
Footsteps
Detail: Human noises and footsteps, robot sound effects with creaky gables or alien. Footsteps on tiles, wood, grass. Footsteps on branches, leaves, fine or coarse gravel, pebbles, carpets, snow. Sounds of birds walking, running or pecking. Sounds of shoes with heels or big boots. Footsteps climbing the stairs or rubbing their feet. Mainly here, the sounds were created with different materials to have several textures.
Content
251 Files
Total length
1 h 49 mn
Weight
3.78 Go
Price
80.00 €
Good deal: Buy this volume in a Pack and save up to 60% on your purchase.
Info : All these sound effects and soundscapes are treated and mastered with care. All files are long and varied to make excellent loops for movies or games.