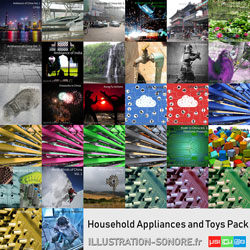 Musicec Sound Effect Library
HOUSEHOLD APPLIANCES AND TOYS PACK
Detail: Pack of 2 volumes of noise from appliances, electronic objects, fans, air conditioners, DVD players, laptops, small cars, spring or battery toys. More than 5 hours of home appliances and mechanical and electrical toy sounds. Sold separately, these volumes would cost 180 €. Buy this pack and save 54 €.
Key Words : DVD player, air conditioning, electronic object, fan, household appliance, laptop, spring or battery-powered toy, toy car,
Content
470 Files
Total length
5 h 45 mn
Weight
10.80 Go
Price
126.00 €
Get a better Deal: Look at another Pack and save up to 60% on your purchase.
Info : All these sound effects and soundscapes are treated and mastered with care. All files are long and varied to make excellent loops for movies or games.