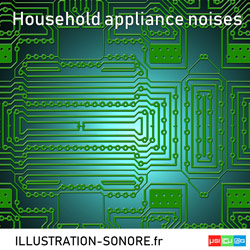 Musicec Sound Effect Library
HOUSEHOLD APPLIANCE NOISES
Detail: Noises and small sounds of electronic devices to illustrate everyday life. Sounds of washing machines, switches, shaver, hair dryer. Sounds of juicers, microwaves, buzz of static electricity. Sounds of printers, dishing machine, kettle, DVD players. Sounds of air conditioners, fans. Sounds of buttons, switches, digital cameras, cleaner, stove.
Key Words : DVD player, air conditioner, button, camera, citrus press, cleaner, electricity buzz, electronic device, fan, hairdryer, kettle, microwave, printer, razor, stove, switch, switch, washing machine, washing machine,
Content
192 Files
Total length
3 h 35 mn
Weight
6.29 Go
Price
100.00 €
Good deal: Buy this volume in a Pack and save up to 60% on your purchase.
Info : All these sound effects and soundscapes are treated and mastered with care. All files are long and varied to make excellent loops for movies or games.