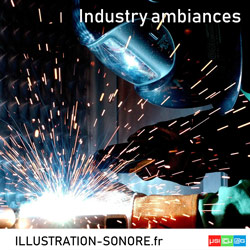 Musicec Sound Effect Library
INDUSTRY AMBIANCES
Detail: Soundscapes of workshops and painting rooms in car factories, gun noise, ventilation in the background. Sound atmospheres of metallurgical plant, crane, alarm near or far with strong activity. Soundscapes shipyard, compressor and blown relaxation, airborne or external noise, indoor or outdoor, electric arc, electric motor, lifting trays. Soundscapes of refectory, canteen.
Key Words : background ventilation, canteen, car factory, compressor, crane, decompression breath, distant activity, distant alarm with high activity, electric arc, electric motor, fan, gun sound effects, intense outside noise, interior noise, lifting platform, metallurgical plant, near alarm, near noise, paint room, refectory, shipyard, welding machine, workshop,
Content
38 Files
Total length
1 h 14 mn
Weight
2.43 Go
Price
80.00 €
Good deal: Buy this volume in a Pack and save up to 60% on your purchase.
Info : All these sound effects and soundscapes are treated and mastered with care. All files are long and varied to make excellent loops for movies or games.