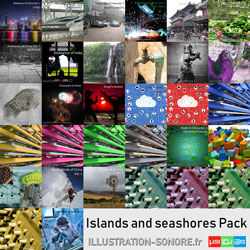 Musicec Sound Effect Library
ISLANDS AND SEASHORES PACK
Detail: This pack contains 2 volumes of atmospheres and natural seaside and urbanized sounds. Cliffs, reefs, beaches, waves, gravel, grass, winds, birds, dogs, insects. Close, distant, quiet and noisy at different times of the day, morning, day and night. Waves and lapping in the ports or from the docks. Sounds of faraway boats, approaching or near. Human activity, market, crowds, faraway traffic docks. More than 5 hours of sounds, noises and ambiances of seaside. Sold separately, these volumes would cost 200 €. Buy this pack and save 60 €.
Key Words : approaching boats, beach, birds, calm seaside, cliff, close-up boats, crowd, distant boats, distant seaside, distant traffic, dock, dock, dog, grass, gravel, harbor, human activity, insect, lapping, market, natural seaside, near seaside, noisy seaside, reef, seaside by day, seaside by night, seaside during the day, seaside in the morning, urbanized seaside, wave, wave, wind,
Content
121 Files
Total length
5 h 01 mn
Weight
10.22 Go
Price
140.00 €
Get a better Deal: Look at another Pack and save up to 60% on your purchase.
Info : All these sound effects and soundscapes are treated and mastered with care. All files are long and varied to make excellent loops for movies or games.