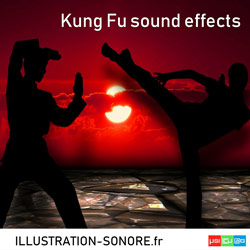 Musicec Sound Effect Library
KUNG FU SOUND EFFECTS
Detail: Foley sounds of different gestures with or without kung fu action weapons. Whoosh, scratch. Crush sounds, body impacts (with armor and without), bone fractures. Foley sounds of blows and body movements based on different clothes. Sounds of birds wings. Bloody sounds and very realistic.
Key Words : blow, body impact with armor, body impact without armor, body movement with different clothes, bone fracture, crush, gesture with or without kung fu action weapon, scratch, whoosh, wing of birds,
Content
466 Files
Total length
2 h 30 mn
Weight
5.02 Go
Price
150.00 €
Good deal: Buy this volume in a Pack and save up to 60% on your purchase.
Info : All these sound effects and soundscapes are treated and mastered with care. All files are long and varied to make excellent loops for movies or games.