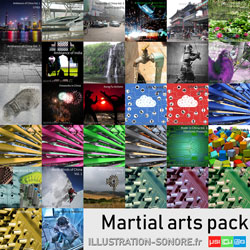 Musicec Sound Effect Library
MARTIAL ARTS PACK
Detail: This pack contains 2 volumes of action and Kung Fu impact sound effects. Knives, swords, swords, whoosh, scratch, broken bones, impacts, daggers ... More than 4 hours of kung Fu actions and knives.
Key Words : action and impact of Kung Fu, broken bone, dagger ..., impact, saber, scratch, stabbing weapon, sword, whoosh,
Content
770 Files
Total length
3 h 51 mn
Weight
8.63 Go
Price
175.00 €
Get a better Deal: Look at another Pack and save up to 60% on your purchase.
Info : All these sound effects and soundscapes are treated and mastered with care. All files are long and varied to make excellent loops for movies or games.