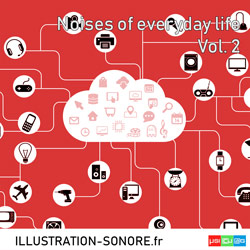 Musicec Sound Effect Library
NOISES OF EVERYDAY LIFE VOL. 2
Detail: Everyday life sounds. Bag sounds of metal parts. Various sounds of balloon. Noises of box of coins or currency. Sound of card stock, torn, paper sheet, crumpled, shaken. Soda can, opening, bubbles, crush. Curtain sounds, microphone stand, drawer. Pearl necklace noises. Cooking noises, frying, vegetables, lighter. Sounds of plastic bags imitating a shaker, wind. Sounds of plastic bottles and rubber gloves, squealing. Ruler sounds, shells, teaspoon, zippo. Sounds of different rolls of scotch imitating a jet, a hissing sound etc.
Key Words : bag of metal coins, balloon, bubble, card stock, coin box, crumpled sheet of paper, crush, curtain, daily, drawer, foot microphone, frying, kitchen, lighter, opening, pearl necklace, plastic bag, plastic bottle, rolls of scotch tape imitating a whistle, rubber glove, ruler, seashell, shaken sheet of paper, sheet of paper, soda can, squeak, teaspoon, torn paper, vegetable, zippo,
Content
316 Files
Total length
1 h 58 mn
Weight
4.20 Go
Price
100.00 €
Good deal: Buy this volume in a Pack and save up to 60% on your purchase.
Info : All these sound effects and soundscapes are treated and mastered with care. All files are long and varied to make excellent loops for movies or games.