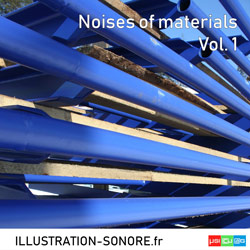 Musicec Sound Effect Library
NOISES OF MATERIALS VOL. 1
Detail: Squeak sounds of manipulated bamboo basket, or paper jet. Sounds of a bush branch. Striking noises on a heavy metal sheet, friction of metal parts, drops of metal tubes. Sounds of metal pipes struck or falling. Noises of metal box or plastic thrown or hit. Sounds of bricks and stones thrown or broken. Noises from gravel, rock or tiling. Noises of discarded or broken pieces of wood.
Key Words : blow on a heavy sheet, branch of bush, broken stone, creaking of manipulated bamboo basket, discarded brick, discarded metal or plastic box, discarded stone, falling metal pipes, gravel, jet of metal tube, jet of paper, metal box or impacted plastic, pieces of broken wood, pieces of discarded wood, rock, rubbing of metal piece, struck metal pipes, tiles,
Content
201 Files
Total length
1 h 23 mn
Weight
3.21 Go
Price
80.00 €
Good deal: Buy this volume in a Pack and save up to 60% on your purchase.
Info : All these sound effects and soundscapes are treated and mastered with care. All files are long and varied to make excellent loops for movies or games.