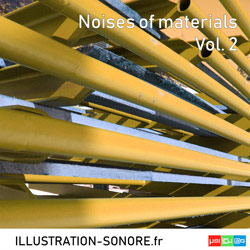 Musicec Sound Effect Library
Noises of materials Vol. 2
Detail: Candy box sounds, opening, closing etc. Aluminum box sounds, blow, opening, closing, resonance. Metallic door noises in a corridor, blow, opening, closing. Sound effects of sliding aluminum doors. Sounds of knives and blades, rubbed, slipped. Noises from pan lids. Sounds of metal keys and locks. Sounds of metal bars struck, thrown. Grilling, metal or bar fence fires, shaking, stick slip and blows.
Content
205 Files
Total length
1 h 24 mn
Weight
2.95 Go
Price
80.00 €
Good deal: Buy this volume in a Pack and save up to 60% on your purchase.
Info : All these sound effects and soundscapes are treated and mastered with care. All files are long and varied to make excellent loops for movies or games.