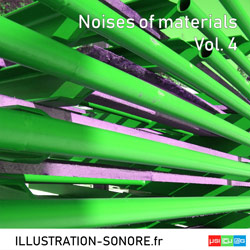 Musicec Sound Effect Library
Noises of materials Vol. 4
Detail: Sounds of metal plate thrown, struck, rubbed. Sound effects of steel bar, iron ball, washer. Metal piece rolling, flat iron spray on an iron plate. Microphone stand noises thrown on a metal plate. Sounds of saw blades. Squeaking or rubbing on a metal plate. Metal trash noises with jet of metal parts. Slip sounds and blow on the edge of a metal plate. Sounds of metal struck by a blacksmith.
Content
271 Files
Total length
1 h 12 mn
Weight
3.27 Go
Price
80.00 €
Good deal: Buy this volume in a Pack and save up to 60% on your purchase.
Info : All these sound effects and soundscapes are treated and mastered with care. All files are long and varied to make excellent loops for movies or games.