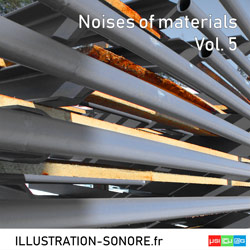 Musicec Sound Effect Library
NOISES OF MATERIALS VOL. 5
Detail: Sound effects of steel sheets. Noises of shaken metal sheet. Sounds of striped metal sheets, curled. Sounds of rubbed metal sheets, with tremors, rumblings and hisses. Bearing sounds of steel balls. Sounds of saws or thumps on a sheet of steel. Sounds of deformation, ripple. Thunderstorms.
Key Words : curled striped sheet of metal, deformation, ripple, rolling ball steel, rubbed sheet of metal, saw, scratched sheet of metal, shaken sheet of metal, sheet of striped metal with rumbles and whistles, sheet of striped metal with tremors, sheet steel, thump on a sheet of steel, thunderstorm,
Content
259 Files
Total length
1 h 35 mn
Weight
4.00 Go
Price
80.00 €
Good deal: Buy this volume in a Pack and save up to 60% on your purchase.
Info : All these sound effects and soundscapes are treated and mastered with care. All files are long and varied to make excellent loops for movies or games.