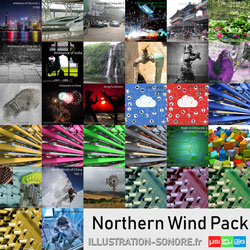 Musicec Sound Effect Library
Northern Wind Pack
Detail: Pack of 2 volumes of atmospheres and sounds of icy winds from northern China to XinLin HaoTe (small Mongolian town). Snowy volcanic mountains, frozen lakes, meadows under -15 ° C in winter. Very strong and cold winds, tornadoes and large isolated meadows. More than 4.5 hours of wind sounds. Sold separately, these volumes would cost 200 €. Buy this pack and save 60 €.
Content
100 Files
Total length
4 h 44 mn
Weight
9.49 Go
Price
140.00 €
Get a better Deal: Look at another Pack and save up to 60% on your purchase.
Info : All these sound effects and soundscapes are treated and mastered with care. All files are long and varied to make excellent loops for movies or games.