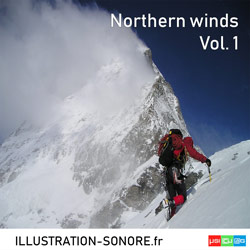 Musicec Sound Effect Library
NORTHERN WINDS VOL. 1
Detail: Sounds of wind and atmospheres of snow-laden volcanic mountains, frozen lakes and meadows below -15 ° C. Footsteps in deep snow. Footsteps on the frozen grass. Atmosphere of sandstorm, strong, suddenly, howls, hisses, with birds. Temple ambiances, wind bells. Village atmosphere with light wind, present or distant, birds, activity, traffic in the distance.
Key Words : activity, birds, frozen lake, heavy sandstorm, nearby village with light wind, not in deep snow, not in frozen grass, not in snow, sandstorm howling, sandstorm with birds, snow-capped volcanic mountain, sudden sandstorm, temple, tornado, traffic in the distance, very strong wind, village in the distance with light wind, whistling sandstorm, wind, wind bell, winter meadow,
Content
53 Files
Total length
2 h 26 mn
Weight
4.91 Go
Price
100.00 €
Good deal: Buy this volume in a Pack and save up to 60% on your purchase.
Info : All these sound effects and soundscapes are treated and mastered with care. All files are long and varied to make excellent loops for movies or games.