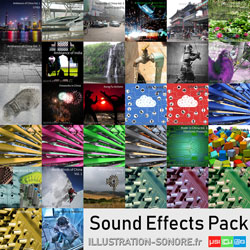 Musicec Sound Effect Library
Sound Effects Pack
Detail: This pack includes 7 volumes of footsteps of tiny aliens or huge monsters happy, angry, attacking, wounded or dying. Making real sounds of the invisible micro signal, sounds of energies, electromagnetic radiation, interfaces. Sounds of fictions, big whoosh and little swishes. Real sound effects and sounds and synthesizer effects. More than 14 hours of sound effects real and synthetic. Sold separately, these volumes would cost € 630. Buy this pack and save 189 €.
Content
2049 Files
Total length
15 h 06 mn
Weight
30.45 Go
Price
441.00 €
Get a better Deal: Look at another Pack and save up to 60% on your purchase.
Info : All these sound effects and soundscapes are treated and mastered with care. All files are long and varied to make excellent loops for movies or games.