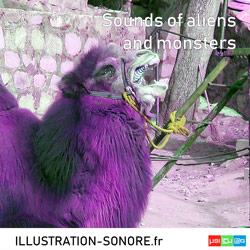 Musicec Sound Effect Library
SOUNDS OF ALIENS AND MONSTERS
Detail: Panoramic sounds of screams, voices and sounds of extraterrestrials. Sounds of serious monsters, treble. Blast sounds of male, female, whistling and crackling monsters. Noise of tiny aliens and huge monsters. Roar sounds, male, female, or old evil monsters. With a lot of emotions like happy, angry, attacking, hurt or dying. Breathing sounds, ghost sounds. Crunches and small sounds of creatures.
Key Words : alien sound, alien voice, angry animal, animal breathing, attacking animal, cracking, creature noise, cry, dying animal, ghost, happy animal, high-pitched monster, huge monster, injured animal, low-pitched monster, monster breath, monster crunch, monster hiss, old evil monster, roaring monster, tiny alien,
Content
202 Files
Total length
2 h 22 mn
Weight
3.01 Go
Price
80.00 €
Good deal: Buy this volume in a Pack and save up to 60% on your purchase.
Info : All these sound effects and soundscapes are treated and mastered with care. All files are long and varied to make excellent loops for movies or games.