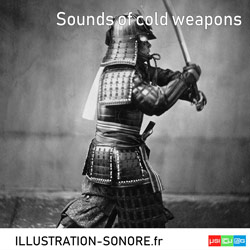 Musicec Sound Effect Library
SOUNDS OF COLD WEAPONS
Detail: Impact noises, sliding, rubbing, falling and tearing of knives. Knive noises, sabers or swords, daggers and other cold weapons. Sounds of punch, ax, lupine, spear. Sound effects of shield, spear and kung fu knife, weapon shells. Armor sounds, handguns. Noise of movement in kung fu, from fighter to fan. Baton fight sounds. Whiplash sounds.
Key Words : armor, ax, dagger, fall, fan fighting, friction, handgun, holster, impact, knives, kung fu, kung fu knife, lance, lupine, punch, saber, shield, slip, stabbing, stick fighting, sword, tear, trips in kung fu, whiplash,
Content
304 Files
Total length
1 h 20 mn
Weight
3.61 Go
Price
100.00 €
Good deal: Buy this volume in a Pack and save up to 60% on your purchase.
Info : All these sound effects and soundscapes are treated and mastered with care. All files are long and varied to make excellent loops for movies or games.