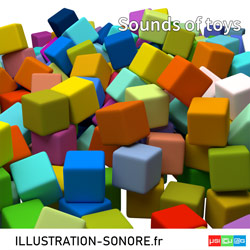 Musicec Sound Effect Library
SOUNDS OF TOYS
Detail: Gyrocopter car sounds, spring car. Formula 1 sounds in gear, military jeep, police car. Tank sounds, fast, slow, with accidents car sounds. Children's bicycle sounds. Sounds of squeaky toys, bamboo crocodiles, plastic trumpets. Sounds of plastic weapons, remote control antennas, whistling birds, rockets. Sounds of robots, spiders, mechanical rabbits, electric trains.
Key Words : autogyro car, bamboo crocodile, car accident, child's bike, electric train, fast car, gear car, mechanical rabbit, military jeep, plastic trumpet, plastic weapon , police car, remote control antenna, robot, rocket, slow car, spider, spring car, squeaky toy, tank, whistling bird,
Content
278 Files
Total length
2 h 10 mn
Weight
4.51 Go
Price
80.00 €
Good deal: Buy this volume in a Pack and save up to 60% on your purchase.
Info : All these sound effects and soundscapes are treated and mastered with care. All files are long and varied to make excellent loops for movies or games.