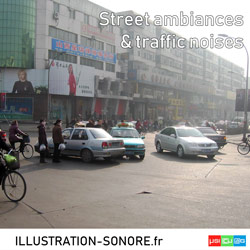 Musicec Sound Effect Library
STREET AMBIANCES AND TRAFFIC NOISES
Detail: Ambiances of urban and motorway traffic, near and far. Circumstances of traffic at the entrance and in a tunnel. Street and cossroad atmospheres during the day and at night. Atmospheres of calm traffic, stamping and intense.
Key Words : calm traffic, crossroads atmosphere day and night, distant traffic, heavy traffic, motorway traffic, nearby traffic, street atmosphere, traffic at the entrance and in a tunnel, traffic jam, urban traffic,
Content
46 Files
Total length
3 h 15 mn
Weight
6.48 Go
Price
100.00 €
Good deal: Buy this volume in a Pack and save up to 60% on your purchase.
Info : All these sound effects and soundscapes are treated and mastered with care. All files are long and varied to make excellent loops for movies or games.