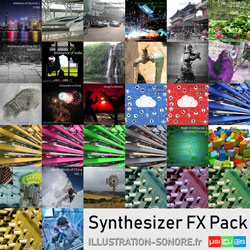 Musicec Sound Effect Library
SYNTHESIZER FX PACK
Detail: Pack of 4 volumes containing all kinds of sound effects : energies, signals, interfaces, sounds of fiction, big whoosh and small swishes. Materials created with modulated analog synthesizers, which gives them a real emotional power as can be heard on different illustrations of robots or transformers. More than 8 hours of sounds and synthesizer effects. Sold separately, these volumes would cost 320 €. Buy this pack and save 96 €.
Key Words : energy, fiction, interface, modulated analog synthesizer, signal, swishes, whoosh,
Content
1185 Files
Total length
8 h 29 mn
Weight
18.39 Go
Price
224.00 €
Get a better Deal: Look at another Pack and save up to 60% on your purchase.
Info : All these sound effects and soundscapes are treated and mastered with care. All files are long and varied to make excellent loops for movies or games.