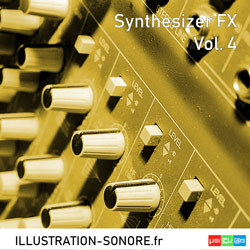 Musicec Sound Effect Library
SYNTHESIZER FX VOL. 4
Detail: All kinds of sounds created with analog synthesizers. Alarm beep, scan, scan. Indicator sounds, metallic reflection, propagation, drone, red alert. Noise boing, bounce, click 8 bit, glitches, pulse. Sounds of radio, alien, ghost, monsters. Buzz sounds, under the water. Sounds of teletransmission, robot, shot, digital storm, earthquake roar, whoosh. Perfect for sci-fi movies and cartoons.
Key Words : 8-bit click, alarm beep, alien, analog synthesizer, analysis, boing, bounce, buzz, digital storm, drone, earthquake rumble, ghost, glitche, indicator, metallic reflection, monster, propagation, pulse, radio, red alert, remote transmission, robot, scanning, underwater , whoosh,
Content
462 Files
Total length
2 h 01 mn
Weight
4.61 Go
Price
80.00 €
Good deal: Buy this volume in a Pack and save up to 60% on your purchase.
Info : All these sound effects and soundscapes are treated and mastered with care. All files are long and varied to make excellent loops for movies or games.