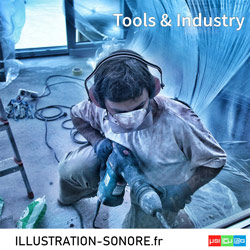 Musicec Sound Effect Library
TOOLS AND INDUSTRIES
Detail: Noises of building equipment tools. Staple, pulsed air and compressor noises. Tool box sounds. staple box, nail, shaken. Sounds of plastic box, shaking paint spray, paint spray. Chain noises. Interior construction site ambiances, metal trolley, ratchets. Noises from compressed air compressor. Sounds of hammer blow and drill, electric jackhammer, electric hoist. Rack rattan sounds, shovel in gravel, electric drill, small block of metal, small metal gables. Noises from small metal tools, arc welding machines, refills and stapler springs. Sounds of wood saw, hand saw, electric saw.
Key Words : building equipment, building tools, chain, compressed air nailer, compressor, electric drill, electric hoist, electric jackhammer, electric saw, forced air, hammer blow, hand saw, indoor construction site, metal block, metal pinion, metal trolley, nail box, paint spray, plastic box, ratchet wrench, rattan basket, shaken box, shaken paint spray, shovel in gravel, small metal tool, staple box, stapler, stapler refill and spring, tool box, wood saw, workstation arc welding,
Content
89 Files
Total length
1 h 09 mn
Weight
1.98 Go
Price
80.00 €
Good deal: Buy this volume in a Pack and save up to 60% on your purchase.
Info : All these sound effects and soundscapes are treated and mastered with care. All files are long and varied to make excellent loops for movies or games.