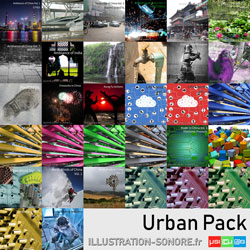 Musicec Sound Effect Library
URBAN PACK
Detail: Pack containing 6 volumes of atmospheres and urban sounds of different cities and villages. Transport noises and traffic at different times of the day. Industries and shipyards. More than 14 hours of urban sound effects. Sold separately, these volumes would cost 590 €. By buying this pack you save 177 €
Key Words : city, industry, shipyard ..., town, traffic, transport,
Content
235 Files
Total length
14 h 15 mn
Weight
29.06 Go
Price
413.00 €
Get a better Deal: Look at another Pack and save up to 60% on your purchase.
Info : All these sound effects and soundscapes are treated and mastered with care. All files are long and varied to make excellent loops for movies or games.