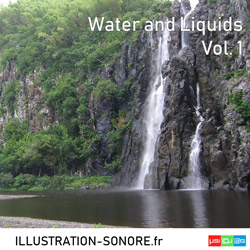 Musicec Sound Effect Library
Water and Liquids Vol. 1
Detail: Sounds of water and liquids. Ambiances of small light source, passing under a bridge, or big source in the spring, near or half distance. Beach ambiances, lakeside, noisy or calm. Atmospheres of light waves on the pebbles, lapping of water on the hull of the boats in the ports. Atmospheres of agitated sea, squeaking of rope of the boat with quay. Pouring noises into a cup, a deep vase, or from a water fountain. Splashing noises, short, long, wide or repeated.
Content
58 Files
Total length
1 h 55 mn
Weight
4.07 Go
Price
80.00 €
Good deal: Buy this volume in a Pack and save up to 60% on your purchase.
Info : All these sound effects and soundscapes are treated and mastered with care. All files are long and varied to make excellent loops for movies or games.