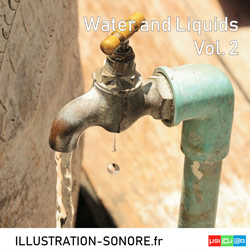 Musicec Sound Effect Library
WATER AND LIQUIDS VOL. 2
Detail: Sounds of oil drops, simple or continuous. Water noises in pipes, water bubbles, pouring water into a cup, bubbles in a tank. Flush sounds simple, with grinder, with filling noise. Sounds of drops of water in a tunnel, light waterfalls, strong, wavelets close and calm, with light wind.
Key Words : bubbles in a tank, calm near ripples, close ripples, continuous oil drops, flush with grinder, light waterfall, noise filling, pouring water into a cup, ripples with light wind, simple flush, single oil drops, strong waterfall, water bubbles, water drops in a tunnel, water in pipes,
Content
179 Files
Total length
1 h 44 mn
Weight
4.62 Go
Price
80.00 €
Good deal: Buy this volume in a Pack and save up to 60% on your purchase.
Info : All these sound effects and soundscapes are treated and mastered with care. All files are long and varied to make excellent loops for movies or games.