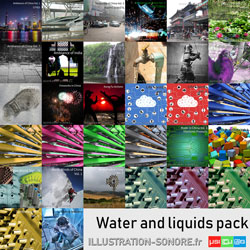 Musicec Sound Effect Library
WATER AND LIQUIDS PACK
Detail: Pack containing 2 volumes of soundscapes and sound effects of the aquatic world, water and various liquids. Rivers, waterfalls, lakes, bottles, drops, pipes, bubbles ... More than 3 hours of natural water and bottled water. Sold separately, these volumes would cost € 160. Buy this pack and save 48 €.
Key Words : aquatic world, bottle, bubble, drop, lake, liquid, pipes, river, water, waterfall,
Content
237 Files
Total length
3 h 40 mn
Weight
8.69 Go
Price
112.00 €
Get a better Deal: Look at another Pack and save up to 60% on your purchase.
Info : All these sound effects and soundscapes are treated and mastered with care. All files are long and varied to make excellent loops for movies or games.